New Release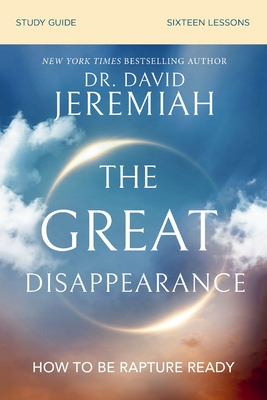 The Great Disappearance Bible Study Guide: How to Be Rapture Ready
Publication Date:
November 29th, 2023
Publisher:
Harperchristian Resources
Usually Ships in 1 to 5 Days
Description
It Will Be an Ordinary Day-- Until, Suddenly, It Isn't
For decades, Dr. David Jeremiah has searched the Scriptures for answers regarding the future monumental events known as the Rapture, the Tribulation, the Second Coming, and more. The Great Disappearance compiles his prophetic research for curious believers who patiently await the triumphant return of Christ. This study guide reinforces Dr. Jeremiah's dynamic, in-depth teaching to aid you in applying biblical truth to your daily life.
Drawing from his deep knowledge of biblical prophecy and passion for sharing the truth of God's Word, Dr. Jeremiah skillfully unravels the mysteries surrounding the Rapture and the Second Coming. Designed for use with Dr. Jeremiah's book, The Great Disappearance Study Guide dives into the promises of Jesus' return in the Old and New Testaments. Whether you are a seasoned student of prophecy or new to the faith, this guide will expand your understanding, deepen your faith, and bring you one step closer to the future glory awaiting those who put their faith in Christ Jesus.
Each lesson includes:
An outline of the main subjects and Scriptures covered during the lesson
An overview of Dr. Jeremiah's teaching on the topic being studied
Application questions to help both individuals and small groups delve into the content and the Bible
A Did You Know? section that adds a point of interest to the lesson