New Release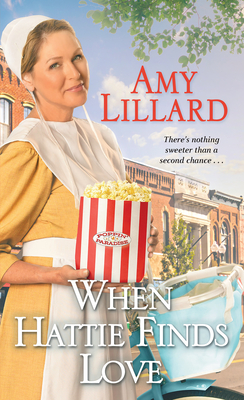 When Hattie Finds Love (Paradise Valley #4)
Publication Date:
November 28th, 2023
Usually Ships in 1 to 5 Days
Description
From award-winning USA Today bestselling author Amy Lillard, the uplifting new inspirational romance featuring the "Whoopie Pie Widow's Club," a group of women who share solace, friendship, and faith in the close-knit community of Paradise Valley, Missouri.

When they bet that their most outgoing member can't turn around the attitude of their most grumpy neighbor, the last thing they all expected was their wager leading to new love for Hattie! Perfect for fans of Beverly Lewis, Charlotte Hubbard, Amy Clipston, and Shelley Shepard Gray.
Hattie Schrock's lively optimism makes her the Widows Club's most outgoing member. The circle has helped her through widowhood—and in building a thriving popcorn shop with her cousin. So when Elsie bets Hattie that she can't help Paradise Valley's most cantankerous man learn to be happier, Hattie tackles the challenge head-on. But what can she do when she finds Christian Beachy is far more complicated—and appealing—than she thought?
Christian lives his faith through hard work, supporting his overbearing sister, and growing the Valley's best vegetables. After all, a good Amish man should be dedicated to duty. Yet suddenly, Hattie's warm-hearted attentions and knack for unexpected adventures is showing him life can be so much more—especially if Hattie can share it with him. But when he discovers her wager, can she and the Widows Club ever convince him that her growing love is the real thing—and that risking together forever will be the sweetest, most fulfilling chance of all?
Praise for When Hattie Finds Love (Paradise Valley #4)
Praise for Amy Lillard's Amish Romances
 
"Lillard bakes up a new Amish romance series with an appetizing theme, set in Paradise Springs, Mo., where a neighborhood support group called the Whoopie Pie Widows Club convenes…Lillard's assembled a quirky cast for this new series, and, as a bonus, included recipes (yes, whoopie pies are in the mix). Readers will delight in this sweet love story and stay hungry for the next installment." —Publishers Weekly on Marry Me, Millie
 
"When their relationship takes a romantic turn, their families try to keep them apart, but their courage in pursuing love and independence changes what their families think they are capable of. Lillard does an excellent job of depicting with accuracy and compassion the difficulties faced by those with mental disabilities. This affecting tale will surely inspire." —Publishers Weekly, STARRED REVIEW on Loving Jenna
 
"Lillard's rich descriptions of Amish life and endearing portrayal of Amos's courtship will please any fan of Amish fiction." —Publishers Weekly on Romancing Nadine
 
"An inspirational story of romance, faith, and trust…will appeal to fans of Wanda Brunstetter and Beverly Lewis." —Library Journal on Caroline's Secret
 
"Fans of inspirational romance will appreciate Lillard's vivid characters and positive message." —Publishers Weekly on Titus Returns
 
"Friendship, unexpected romance and the value of repentance and second chances." —Simple Grace on Titus Returns
 
"This story really took me in and I felt the hurts and love written in the pages like I was right there among the characters." —Amish Wisdom on A Love for Leah